PHUKET, 21 November 2023: Now in its 29th edition, Southeast Asia's longest-running competition, Laguna Phuket Triathlon 2023, concluded 19 November, attracting 1,000 Thai and international triathletes representing 30 countries.
Triathlon competitors faced challenging stages, conquering a 1.8-km swim in the Andaman Sea and lagoon, a rigorous 55-km cycling route navigating mountain trails, and a demanding 12-km run around the Laguna Phuket complex.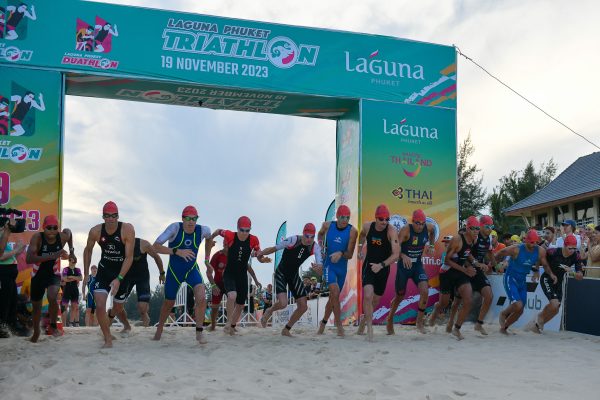 In the men's category, Max Stapley, a British triathlete, marking his debut in the Laguna Phuket Triathlon, claimed the top spot by completing the race with an impressive time of two hours, 32 minutes, and 53 seconds. Securing the second position, Max Studer from Switzerland finished in two hours, 34 minutes, and 09 seconds, while the third-place finish went to Anthony Costes from France, recording a time of two hours, 35 minutes, and 32 seconds.
In the women's division, the title was claimed by Kate Waugh" from the UK. She completed the challenging course in two hours, 46 minutes, and 04 seconds. The second position went to Julie Derron from Switzerland, finishing the race in two hours, 47 minutes, and 45 seconds, while the third spot was taken by Sophie Malowiecki from Australia, posting a time of two hours, 52 minutes and 12 seconds.
For additional details on the 29th Laguna Phuket Triathlon, visit the Facebook page: www.facebook.com/LagunaPhuketTri  or www.lagunaphukettri.com.
(TTRW supports sports events that enhance a destination's communities and tourism).