KOTA KINABALU, 8 June 2023: A group of Filipino golfers led by Engr. Bart Borja arrived in Kota Kinabalu for a golfing holiday, flown in on a Falcon 900 business jet operated by Asian Air Safari.
The Sabah Flying Club and the Sabah Tourism Board welcomed the group following the 90-minute flight from Manila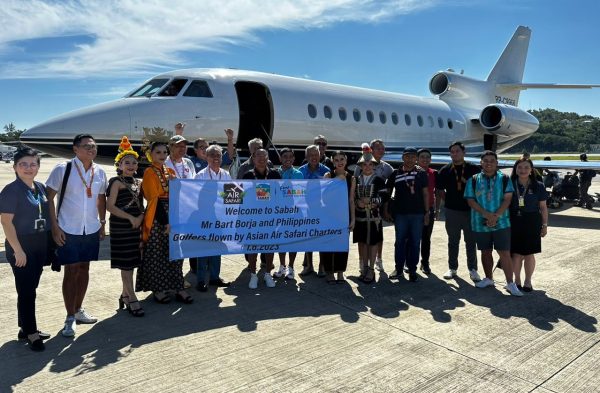 Asian Air Safari is one of Manila's oldest and most reputable aircraft charter companies, chartering fixed and rotary-wing aircraft and offering business and leisure flights in Asia Pacific, Europe and America.
Filipino pilot Captain Joy Roa of Asian Air Safari and Tengku Adlin and the Sabah Flying Club organised the first Borneo World Heritage Fly-in in 2005 – a milestone they hope to repeat soon.
By easing travel restrictions, Captain Joy hopes to further promote Sabah as a destination noted for its impressive beaches, ancient rainforests and nature reserves. It is also recognised for its world-class golf courses close to Sabah's tourist destinations and the capital Kota Kinabalu.