JAKARTA, 1 February 2023: AirAsia Super App announced Tuesday a partnership with Archipelago International, one of Southeast Asia's largest hotel management groups.
This partnership has expanded the AirAsia Super App hotel booking platform's portfolio by more than 40,000 rooms and residences in over 200 locations across Southeast Asia, the Caribbean, the Middle East, and Oceania.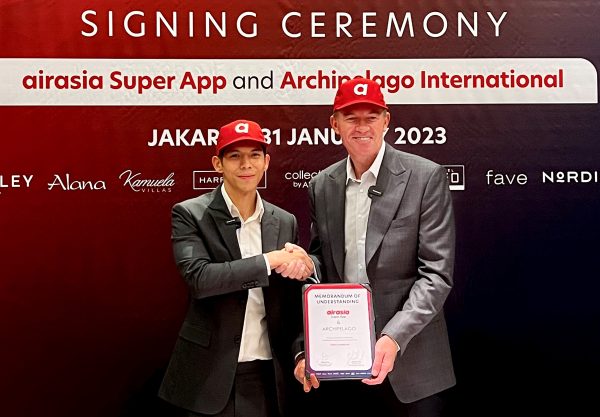 AirAsia Super App users can now access many leading properties under Archipelago International brands including ASTON, The Alana, Kamuela, Harper, Quest, NEO, fave, and Powered by Archipelago.
The MOU signing was attended by the Head of Emerging Markets AirAsia Super App, Lim Ben-Jie, President & CEO of Archipelago International, John M Flood, and Vice President of Commercial Archipelago International, Chris Legaspi.
This partnership also stands as one of AirAsia Super App's efforts as an OTA and hotel booking platform to support Indonesia's Ministry of Tourism and Creative Economy's target of 7.4 million foreign tourist visits to Indonesia in 2023, especially since the reopening of Indonesia's borders for international tourists from China in post-pandemic.
Head of Emerging Markets AirAsia Super App, Lim Ben-Jie, commented, "We gladly welcome the collaboration between AirAsia Super App and Archipelago International. By uniting our strong brand presence and extensive network, we believe this partnership will be a symbiosis of mutualism that benefits all stakeholders, as well as our real contribution to supporting the growth of the Indonesian tourism industry."
"As an OTA with over 700 carriers on our platform, complemented by the wide connectivity of AirAsia airline and the robust travel ecosystem that we have, this partnership reemphasises the strength of AirAsia Super App for hotel partners to optimise our database of up to 51 million users and the 1.25 million daily active users who are looking for travel deals. Our unique end-to-end travel booking experience for users allows the AirAsia Super App to present more cross-sell marketing opportunities and increase visibility for direct hotel partners in reaching the right target market," he continued.
Currently, the AirAsia Super App has inventories of more than 700,000 hotels worldwide. As an integrated travel platform, the AirAsia Super App offers more value to users with 'Best Price Guaranteed' for AirAsia hotel reservations, the AirAsia points system that applies to transactions across products and services within the application and combines AirAsia flight tickets with the best hotel reservation prices in AirAsia SNAP package.