KOTA KINABALU, 20 January 2023: Let's forego the standard 'What's your new year's resolution?' and ask, 'What are your travel plans for 2023?'
In 2023….. I'm looking forward to rediscovering my state, exploring new areas, and crossing items off my long-awaited to-visit list. There is so much to do but so little time. That is why planning is key. Here are my (ambitious) plans.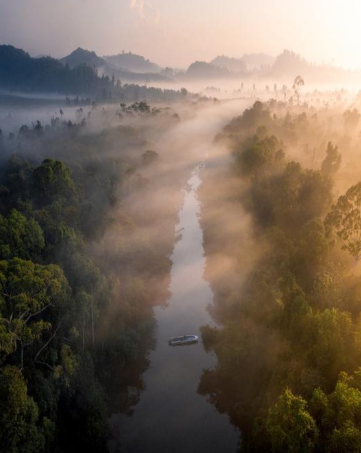 1. River cruising down the iconic Kinabatangan River
The Kinabatangan River has always had a special place in my heart. There's something about that misty-cal (pun intended) dawn cruise that gives every guest a sense of calmness and serenity. Even if you had to force me to wake up before 0530. I'll be that eager beaver. The experience will be much more exciting if, during the cruises, we are fortunate to spot the iconic wildlife of Sabah – for instance, the Pygmy elephants! The Kinabatangan river cruise usually runs twice daily, once in the morning and evening. Some lodges also provide night cruises or walks to see nocturnal wildlife, birds, and insects. I am frequently awed by how knowledgeable the tour guides in Sabah are. They know vast details about wildlife, like the back of their hand. Impressive – a walking encyclopaedia indeed.
2. Doing the Mount Kinabalu Via-Ferrata
If you've already done the standard Mount Kinabalu summit climb (as I did), it's time to take it up a notch and try the Via Ferrata. Let us ascend and embrace the rocky sides of Malaysia's highest mountain via Ferrata, armed with harnesses, ropes, cables, helmets, and safety equipment. Did you know that the Mountain Torq on Mount Kinabalu is the world's highest via ferrata and Asia's first? It's not any easier than the normal climb, but with proper pre-climb training, it's doable. Just imagine the amazing mountain climbing photos that you can capture.
Tip: don't forget to send a postcard from Malaysia's Highest Post Box located at the Pendant Hut.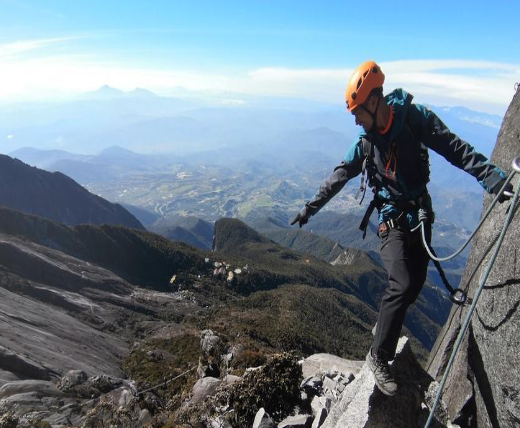 3. Cycling around the paddy fields of Tenom
Tenom is often underrated, and most people forget that there's more to do in Tenom than just white water rafting. The charming Marais village, about 46 minutes from Tenom town is a hidden gem. This place looks like it belongs in a fairytale, with its hilly backdrop, flowing creeks, and greenery of paddy fields and small huts. Consider how relaxing cycling through this scene could be. So peaceful, so refreshing, and yet so inexpensive. Other activities offered by the Marais village community in their community-based tourism programmes include traditional cooking, paddy cultivation, barkcloth making, bead crafting, and cultural performances. March and April are usually the paddy harvesting season in this area.
Tip: Don't forget to indulge in a cup of Tenom coffee while in town.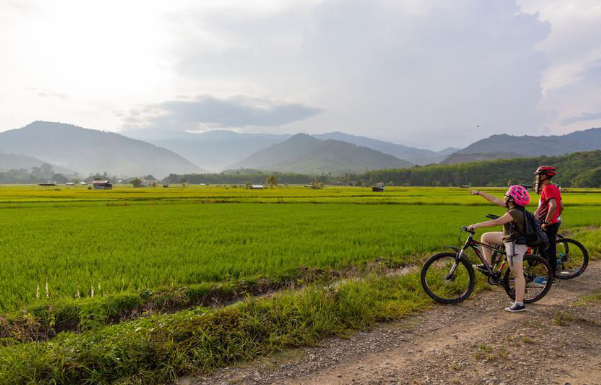 4. Experience the Regatta Lepa celebration
Regatta Lepa is an elaborate celebration that showcases the nomadic Bajau Laut. The festivities are held annually and usually celebrated in April in the quaint little district of Semporna. Semporna is the key gateway to the dive havens of Sabah namely Mataking Island, Kapalai Island, Mabul Island, Pom Pom Island, Tun Sakaran Marine Park and, of course, the name Sipadan Island shall not go unmentioned. I am very much looking forward to the main highlight of this event which is the colourful floating parade of the 'lepa' boats alongside the hypnotic beat of the traditional Bajau dance Igal-Igal. Other highlights of this celebration are the Beauty Pageant 'Regatta Lepa Queen', Lepa Tug of War, Lepa boat race as well as extravagant cultural performances.
*This event will be listed on the Sabah Tourism events page once the date is confirmed.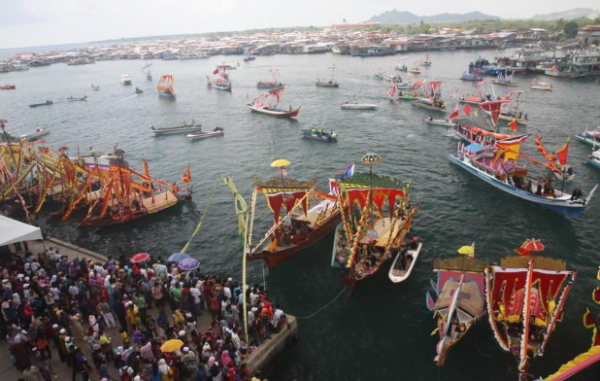 5. Get a taste of Sabahan's exotic and traditional cuisine.
Sabah can be quite festive during May. Kaamatan (Harvest Festival), is celebrated grandiosely throughout the month of May, from one district to another, climaxing on the 30 and 31 May at the Kadazan Dusun Cultural Association (KDCA) grounds in Penampang. It's an ideal month to go on an ethnic gastronomy and culture journey in Sabah. Traditional cuisines by the Kadazan Dusun and Murut communities are usually served and sold during these festivals. I look forward to indulging myself with the fragrance nasi linopot, bambangan (pickled wild mango), hinava (much like a Bornean version of ceviche and sashimi), pinasakan sada (simmered basung fish with tangy wild fruit known locally as takob-akob), ambuyat, bosou (preserved dish), tuhau (pickled wild ginger), pakis (stir fried jungle fern) and more. Let's not forget the delectable desserts such as hinompuka (steamed glutinous rice cake), steamed cassava and the traditional brew of Tapai and Lihing (Rice wine). The list can go on and on. Dear stomach, please be strong.
6. Go Big or go home
There are many idyllic islands in Sabah, but in 2023, I have set my eyes on escaping to Kota Belud's hidden gem, a private beach resort, the Bigfin Beach Resort. The resort offers many leisure activities, such as snorkelling, paddle boarding, kayaking, jungle trekking and scuba diving, with a full range of PADI dive courses. It's the perfect place to unwind and have a mid-year break far from the city but close to the 'healing' energy of the natural surroundings and amazing view of the South China Sea. For divers, this is the less travelled path. Bigfin Divers is known to provide stunning and unexpected dive experiences at their uncrowded dive sites. What bliss.
7. Finding balance with SUP!
SUP, or stand-up paddle, has become a popular activity in Tanjung Aru Beach, Kota Kinabalu. Both sunrise and sunset SUP offer a beautiful backdrop for this leisure water sport. The sunrise SUP provides a serene view of the Tunku Abdul Rahman Marine Park, whereas the sunset SUP (needless to say) always teases us with magical sunset hues. You know what they say about SUP, right? It's like walking on water, but better. FYI: It's also kid friendly. Speak to the SUP operator on how you can tandem with your kid.
8. 'Makan' seafood at James Fish Farm Tambakan Kudat
'Makan' literally translates to 'eat' in the local Bahasa Melayu language. A trip to Sabah should never be without a good seafood meal. The James Fish Farm in Tambakan, Kudat tempts my gluttony with its abundance of seafood. This restaurant serves fresh, affordable seafood cooked in the healthiest way possible, either steamed or boiled. The location is made more interesting by the fact that visitors can go on a short-distance snorkelling tour or even swim in a fish farm. I am not kidding when I say the fishes here are so big that you'll think twice about taking that dip. As far as the food review goes, I've heard a lot of positive feedback.
Tip: along the way, stop by the Tinagol Beading Village, Sumangkap Gong Village, Bavanggazo Longhouse or Gombzau bee farm.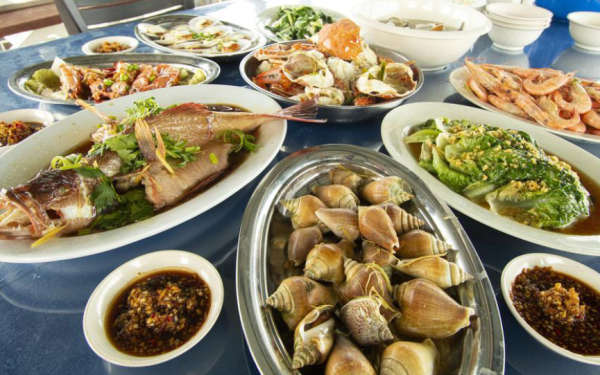 9. Spelunking Madai Cave
Road trip! And to Kunak we go! Specifically for a spelunking adventure at Madai Cave. It is a huge limestone cave within a massive limestone block in Kunak, on the Lahad Datu-Tawau road. This cave is an important producer of bird nests, a prized health delicacy; hence the area is guarded by Idaán community, the cave's guardians. I'm always fascinated by how large and complex the cave system naturally formed. Madai Cave is even more unique because it is also a significant archaeological site containing prehistoric evidence of early human existence. This will definitely appeal to history buffs out there.
10. Try birdwatching at the Rainforest Discovery Centre, Sandakan
I was told that birdwatching is a serious hobby in Sabah. This is most likely because this state has numerous Important Bird Areas (IBA). One of them is located at the Rainforest Discovery Centre in Sandakan. It is also here where the Borneo Bird Festival, which began in 2010 started and has since become a much-anticipated annual bird festival not only among the birdwatching enthusiast but also among casual visitors due to its family-friendly festivals that provide exciting activities for all. Borneo Bird Festival is usually held yearly in October.
11. Trek to Tabin Wildlife Reserve's Mud Volcano
Tabin Wildlife Reserve in Lahad Datu is known for its active mud volcano! Its most recent eruption in September 2022 spewed a large volume of mud, a phenomenon that rarely occurs but is not hazardous to people's health. Seeing this mud volcano site should be on everyone's bucket list as it is not that often you will see one. It requires some trekking, but that is part of the fun. Plus, you will be rewarded with a nice mud volcano face mask spa, which is rich in minerals and is said to promote a better complexion.
12. Daydreaming at Shangri-la's Rasa Ria Resort
Tropical breeze, swaying palm trees, gushing beach waves and a hint of salty air. I could see myself enjoying this in Shangri-La Rasa Ria Resort. This stunning sanctuary is located on the outskirts of the private land of Dalit Beach in the Tuaran district. It's the ideal place to unwind, rejuvenate, and celebrate the end of the year with family. There's a spa, a golf course, a nature reserve centre, water sports, and a wide range of restaurants and entertainment options. The rooms here are also beautifully designed, with tropical beach vibes and a view of paradise. How can I resist such a place?
I hope this list has inspired you to visit more places in Sabah, Malaysian Borneo, from mountain high to ocean-deep. A lovely region that will nourish the heart and soul of any traveller. Feel Sabah in 2023. I know I will.
Elsie Maria Marcus
Things To Do By District: Regions of Sabah & Video
(Your Stories: Sabah Tourism Board)