TAWAU Sabah, 27 February 2023: A well-thought-out strategy is required to promote Tawau as a must-see destination on the east coast of Sabah, said state Assistant Minister of Tourism, Culture, and Environment Datuk Joniston Bangkuai.
Joniston emphasised Tawau has a significant amount of untapped tourism potential, and it should not merely serve as a passing point for tourists who typically fly to Tawau to visit Semporna.
"I must say that whenever we attend (tourism) roadshow, there always seems to be a great deal of interest in Semporna, while Tawau is overlooked.
"Hence, Tawau needs to expand its attractions, and we need to design a strategic plan to encourage tourists to stay and discover all that Tawau has to offer," he said.
Joniston, who is also chairman of the Sabah Tourism Board (STB), said this after visiting the Batu Bersusun attraction and Tagal Kampung Balung Cocos here on Friday.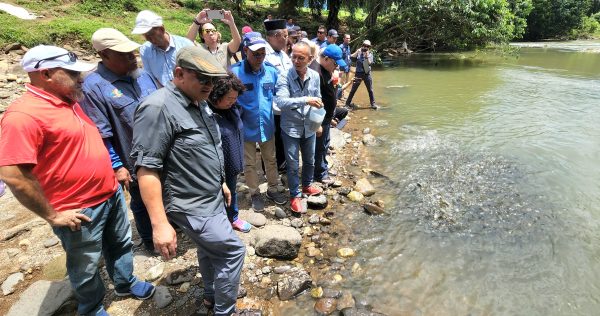 He was accompanied by Ministry's Deputy Permanent Secretary Mary Malangking; STB deputy chief executive officer Julinus Jimit; and Federation of Rural Tourism Association Sabah (FeRTAS) president Walter Kandayon, who is also a board member of STB.
Joniston was on an official work visit for a tourism products update and to inspect facilities improvement funded by the Sabah Tourism, Culture and Environment Ministry (KePKAS) under its Rural Tourism Development Programme.
In addition, he was also briefed on Tawau's potential to develop its community-based tourism (CoBT) based on a study conducted by Tawau Polytechnic.
The Tawau Polytechnic director Dr Hajah Nor Haniza B Mohamad briefed that they identified Kampung Tinagat, Kampung Batu Payung, and Kampung Membalua as potential villages for CoBT.
She stated that the villagers in these places have indicated that they are ready to promote their particular village as a tourism attraction, adding that the residents strongly agreed that tourism would boost their source of income.
"We are ready to support (KePKAS and STB), especially on training and to develop CoBT in Tawau," she said.
On this note, Joniston encouraged Tawau Polytechnic and relevant quarters to engage with FeRTAS and to learn from the success stories of established CoBT.
Also present were Tawau Municipal Council engineer Mohd Ikhsan Wahap; Tawau Tourism Association chairperson Hazlina Ismail; Tagal Kampung Balung Cocos chairman Rasid Medical; and Kampung Balung Cocos chief Takun Austin, among others.