LUANG PRABANG, 10 April 2023: A Thai AirAsia flight aborted its landing approach to Luang Prabang International Airport on 7 April and returned to Bangkok due to poor visibility caused by the smog and forest fires.
Aerolaos, which provides airline and media services, posted the flight path of FD1030 as it approached Luang Prabang Airport, located in a narrow valley surrounded by steep mountains, on 7 April. Just before the A320 was due to land, it returned to Bangkok.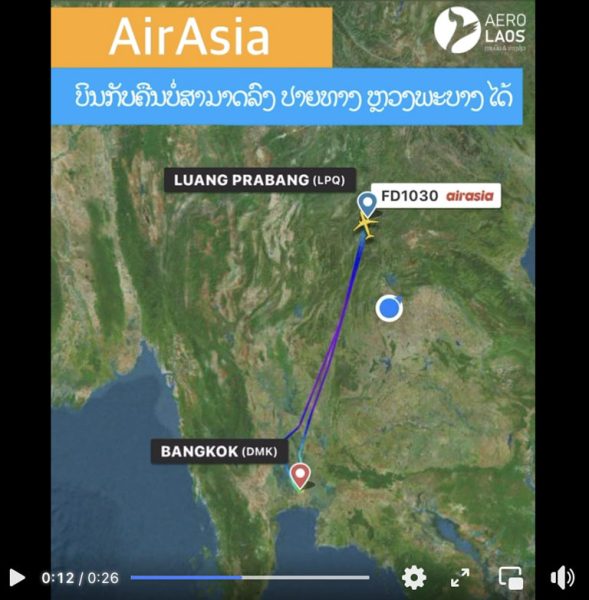 To watch the flight path video and see the latest updates on visibility at Luang Prabang Airport, visit:
https://www.facebook.com/AeroLaos
Aerolaos on its Facebook page noted that airlines cancelled or diverted seven flights to and from Luang Prabang on 7 April.
Due to thick fog and poor visuals, Aerolaos said airlines could not fly to Luang Prabang International Airport, impacting travel plans for hundreds of travellers. This is usually a busy travel month for the World Heritage town, mainly due to the influx of Thai and Vietnamese travellers during the Easter and Songkran holiday weeks.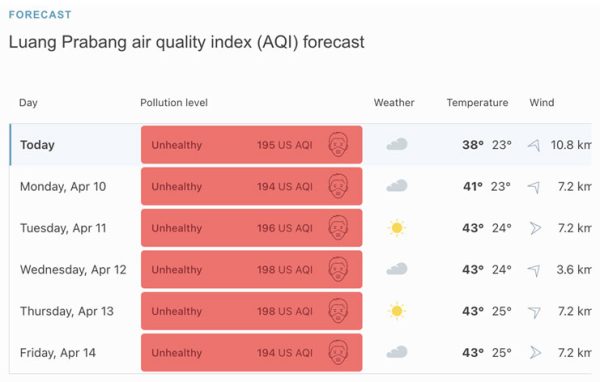 Aerolaos reported seven flight cancellations at Luang Prabang airport for just one day, 7 April starting with three Lao Airlines flights (QV101, QV636, QV103); two ATR 72 flights bound for Vientiane and an ATR72 flight bound for Chiang Mai, Thailand. Three Vietnam Airlines flights were cancelled; two A320 flights to Hanoi and Siem Reap, Cambodia, and a single ATR72 flight to Hanoi.
The A320 Thai AirAsia flight (FD1030) diverted back to Bangkok while descending to Luang Prabang due to poor visuals caused by heavy smog at the airport. The AirAsia flight from Bangkok to Luang Prabang was able to land at Luang Prabang on the following day, 8 April.