SINGAPORE, 3 October 2022: Flightsfinder.com has launched a new global flight search platform that enables consumers to search the world's best flight aggregators from one dashboard, promising to save up to 20% on airfares.
FlightFinder.com's CEO Shahab Siddiqui explains: "Not many people know you can have vastly different prices between the flight aggregators for the same flight route. To ensure the best deal, you must compare multiple flight aggregators, which the new FlightsFinder platform allows consumers to do effortlessly."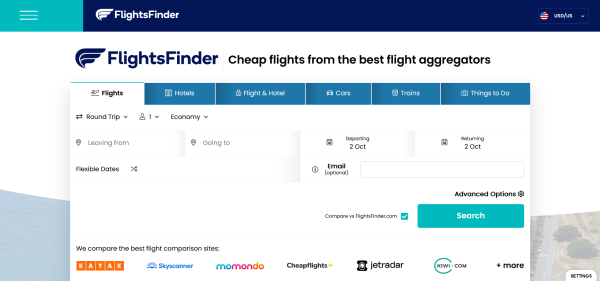 The new site (previously cheapflightsfinder.com) now 'flashes' the cheapest options in the upgraded dashboard, making it convenient to see the cheapest flight prices sourced from more than 10 leading metasearch engines.
Vast price differences can exist on a single flight route – For example, a week's return flight from London to Doha, Qatar leaving on 20 November and returning on 27 November 2022 (Fifa World Cup), garnered the following different flight results:
KAYAK – cheapest: UKP772 – direct/nonstop: UKP833
Skyscanner – cheapest: UKP854 – direct/nonstop: UKP854
Kiwi.com – cheapest: UKP638 – direct/nonstop: UKP1031
Jetradar – cheapest UKP854: direct/nonstop: UKP854
Google flights – cheapest: UKP850, direct/nonstop: UKP850
Skiplagged – cheapest: UKP608 – direct/nonstop: UKP750
As you can see, there are vast differences in price for the cheapest and direct/nonstop flight options, which exist on almost every different flight route.
It is unpredictable which search engine will deliver the best value for a particular route. That is why searching multiple aggregator sites is imperative to know the best deal.
About FlightsFinder
FlightsFinder's Meta-Meta Flight Search allows consumers to compare prices from top online aggregators, including KAYAK, Skyscanner, Kiwi.com, Jetradar, momondo, Skiplagged, Google Flights and others.
FlightsFinder (previously CheapFlightsFinder) was established in 2008 by web developer Shahab Siddiqui who has been featured in numerous news outlets, offering expert advice on how consumers can save money on their trips. He has appeared in The Daily Mail, The Telegraph, The Mirror, Tnooz, Travolution, The Huffington Post and This is Money.
(Source: FlightsFinder)