BANGKOK, 2 August 2022: Bangkok Airways will resume flights to Danang Vietnam on 1 September after a two-year pause.
Announcing details through its Twitter account Monday, the airline said it would fly daily from Bangkok Suvarnabhumi airport to Danang, the gateway tourist destination in central Vietnam.
Using an Airbus A320, the daily flight will depart Bangkok at 1045 and arrive in Danang at 1245. The return flight will depart Danang at 1335 and arrive in Bangkok at 1525.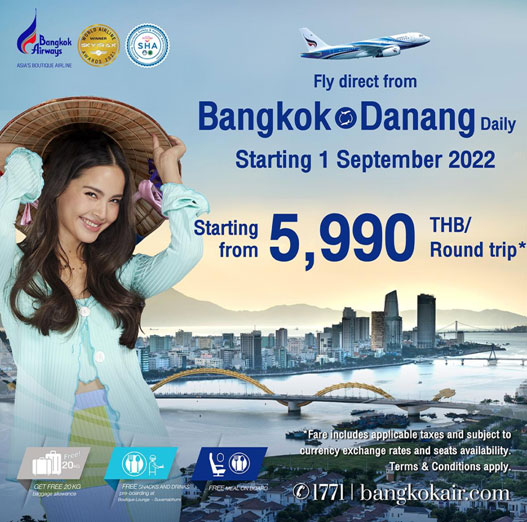 The lead in fare, return trip, is pegged at THB5,990, although the airline's website shows the lowest fare from 1 September to July 2023 at THB3,045 for just one way.
Meanwhile, the airline resumed its flights from Bangkok to Siem Reap, Cambodia, on 1 August. The daily direct flight PG905 departs Bangkok at 1035 and arrives in Siem Reap at 1145. The return flight PG906 departs Siem Reap at 1215 and arrives in Bangkok at 1335. Tour operators based in Siem Reap, the nearest town to the fabled Angkor Wat Historical Park, hope the service will kickstart recovery, especially in key European markets such as France, Germany and the UK. Group tour business to Cambodia has not picked up despite the easing of travel restrictions.
Bangkok Airways's lead-in return fare on the Bangkok – Siem Reap route is pegged at THB 6,230.